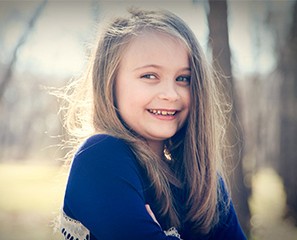 Start Your Child's Smile Right With Early Stage Correction
Did you know most of your child's smile development occurs early in life? If your child has a crooked smile, the problem may continue and even complicate development in adolescence. Though orthodontists used to wait to place braces until all of a child's permanent teeth had come in, advanced technology has changed our methods. Kraus Orthodontics can get your child on the path to a healthy, straight smile now.
With leading-edge technology and our skilled team, we can see the structure of your child's teeth and discover any problems before teeth have even begun to come in. Knowing about issues like misalignment or faulty bone structure ahead of time will help us determine a corrective treatment to help your child's adult teeth come in straighter. Early therapy also prevents problems that can affect jaw and face structure, and can start your child on a path to good oral health.
The Benefits of Early Stage Correction
We can save you time and money by preventing problems with your child's teeth before they happen.
Correcting your child's teeth early will help permanent teeth come in straighter and stay that way later on. If your child needs treatment, it is less probable they will need braces as they get older. Your child can have a beautifully straight smile, even when still quite young.
When your child has straight teeth, it's easier to brush and floss which means fewer cavities!
If children see the importance of developing healthy teeth early on, good oral habits will become second nature as they grow up.
If you have questions, or if you would like to know more about early stage correction, call us today. We love our junior patients and provide quality orthodontic care for our young patients. To schedule an appointment or send us a question, contact us here.